We were asked recently to convert a conservatory roof for Susan Procter. The plan was to transform her conservatory into a brand new living and dining room.
Susan was kind enough to give us a glowing 5-star review on our Google page for our work on her project. Here's how the work went, and what she thought of the Projects 4 Roofing team.
Background on the Project:
Projects 4 Roofing has thankfully been able to continue to perform conservatory roof replacements during much of the pandemic – keeping in line with strict COVID restrictions. Many people have been taking advantage of their increased time at home during the pandemic to think about making house improvements.
The Procters wanted a comfortable, warm space to use as a conservatory dining room and living room. However, they had been having issues with their existing glass conservatory roof for some time:
"The reason we had the conservatory roof replaced was because the old roof was leaking in a number of places and despite several repairs the problem continued.
We looked at a number of different companies offering a variety of different replacement roofs before selecting Projects 4 Roofing. We chose them because they had good reviews and established experience. They also offered a 20-year guarantee.
Our conservatory, built in the 1980s, is very large, spanning the whole of the back of the house with a bay and alcove and we were concerned about spending so much money on such an old complex conservatory."
In fact, Susan's conservatory needed a custom-shaped roof to cover the large, oddly-proportioned area. As you can see from the photo above, it needed to fit across different directions: a kind of P-shaped structure with an extra perpendicular section near the house.
Our experience, as Mrs. Procter recognised, was invaluable in a complex conservatory roof replacement like this one.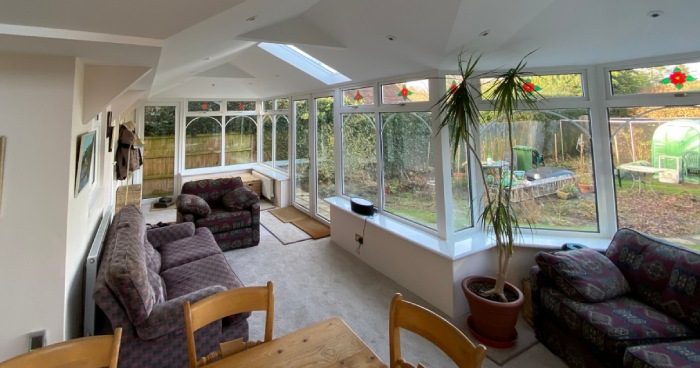 Experience with Complex Conservatory Roof Conversions:
After more than 30 years of converting conservatory roofs, it's rare that a conservatory transformation project stumps us. There are very few things we haven't come across before or don't know how to tackle:
"They were clearly experienced craftsmen and were able to sort out problems as they arose without any fuss.
For instance, discovering that the existing conservatory did not have the reinforced structure to support the new roof, was dealt with quickly and efficiently, with no extra cost. The quality of the work cannot be faulted."
A Guardian Warm Roof can be tailor-made for any shape of conservatory, and we're experts at installing them. A roof like Susan's, covering such a large area, does need more support, which we also frequently install for our customers when needed.
As Team Guardian members and seasoned installers, our team knows exactly what to do in a situation like this. And because of our experience we know we can include these sorts of occurrences into our fixed price quote for every conservatory roof conversion we do.
Speedy installation:
As a result of our expertise, we were able to complete even this unusual custom-shaped conservatory roof installation within 8 days.
"The installation team were quick and efficient and cleaned up at the end of every day.
The company were responsive and professional throughout, they adhered to timelines and gave us confidence that they knew what they were doing."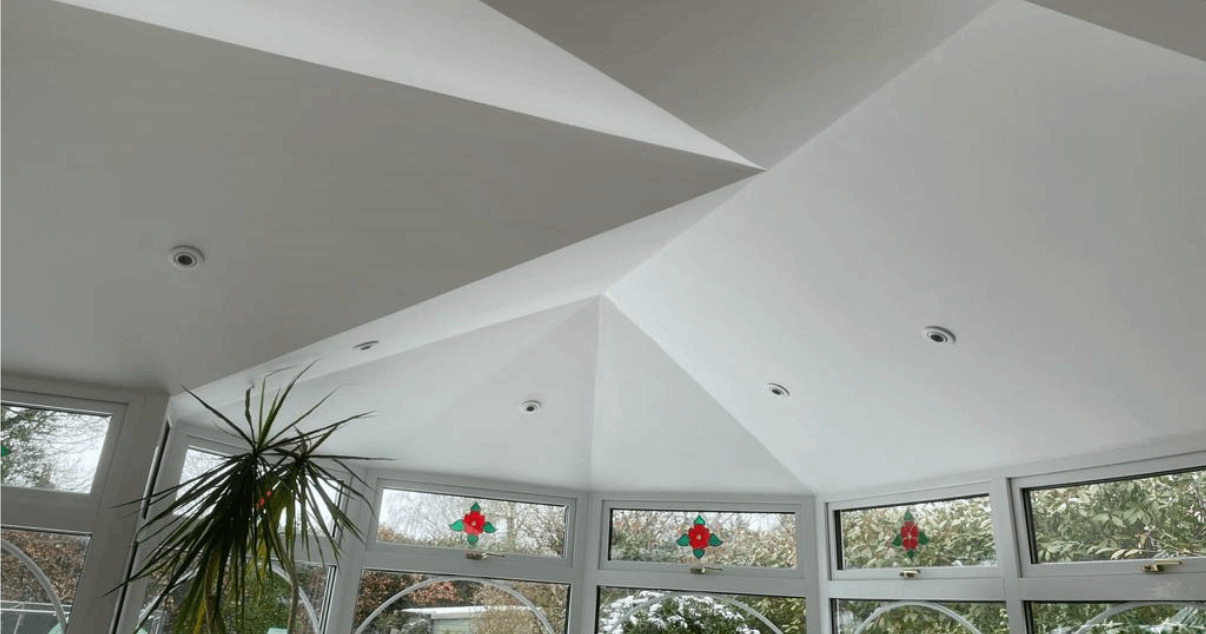 A Successfully Insulated Conservatory:
Once the Guardian Warm Roof was safely and securely installed, the Procters had only good things to say about the finished product. They were after a warm, attractive conservatory space where they can enjoy dining and relaxing – without being leaked on!
Here's how Susan expressed their reaction to the completed conservatory transformation:
"We are delighted with the roof. It looks very good both inside and outside and has transformed our very large north facing conservatory into a warm usable room even in January."
This ability of the Guardian Roof to keep in the warmth was put to the test almost immediately:
"Shortly after the roof was installed it snowed heavily. The snow stayed on the new roof and the two roof windows for several days until the thaw came, despite the heating being on in the conservatory - indicating excellent insulation.
In sub-zero temperatures outside the conservatory is maintaining a steady 20 degrees with the central heating on. It looks good and feels good to be in the conservatory."
This is one of the biggest advantages of a solid roof conservatory over a polycarbonate or glass roof like the Procters had before our project. Glass doesn't insulate very well at all, so in winter it's all too common to hear that conservatories are freezing and uninhabitable.
The Guardian Warm Roof however, has multiple layers of efficient insulation built into its design. That's why the East Anglian snow on Susan's new Metrotile roof remained frozen – because the heat stayed inside the conservatory!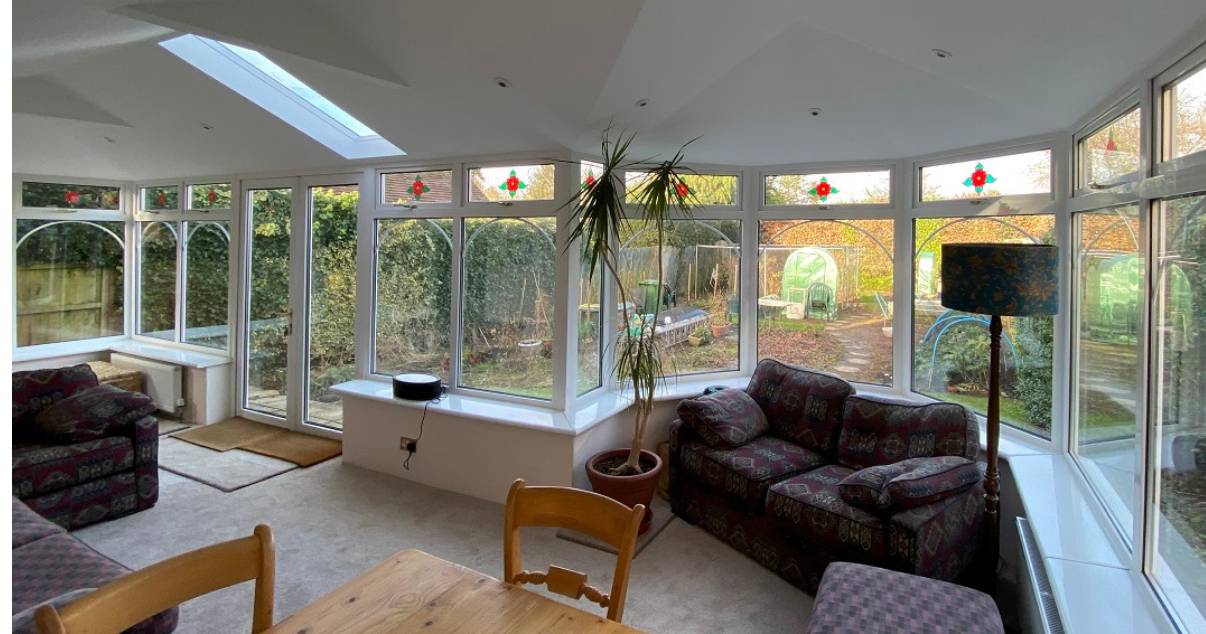 Covid-19 safety first
Installing solid roof conservatories in the winter months has its challenges even in normal times. Doing so during a global pandemic has been something new, even for our veteran team.
When we've been permitted by restrictions to continue conservatory roofing work, safety and hygiene measures to prevent the spread of coronavirus has been of paramount importance. Mrs. Procter explains the precautions we take in these times as a matter of course:
"We had the roof replaced during a period of lockdown, due to the covid pandemic, when construction work was allowed to continue. We are both retired and we wanted to minimise interaction with the team that installed the roof.
This was completely understood by the company and by the installation team who were covid considerate. We had no face to face contact with the team installing the roof. All communication was by phone and no-one from the team entered the house."
There's no room for error as far as Projects 4 Roofing and Covid-19 are concerned. All staff are rigorously trained to follow sanitary protocols.
But even when there's no pandemic on, we pride ourselves on minimising disruption to our customers' lives, keeping out of your house and never leaving a mess on your property. It's just polite!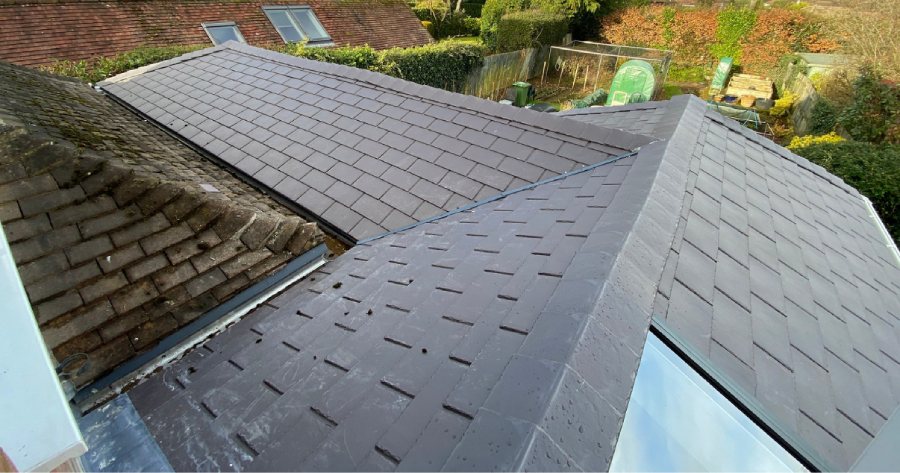 "Professionalism, Quality, Responsiveness, Value"
We don't like to toot our own horn too loudly – but we are proud of the work we do. We believe that good workmanship speaks for itself, and we rely on local word of mouth and recommendations to find new customers who need their conservatory roofs converted.
So we're very grateful to Susan for her kind, thoughtful review. It was a pleasure relishing the challenge of her custom shaped conservatory roof replacement, and we're very happy she was pleased with the results. We'll leave you with her praise in her own words:
"We are very pleased that we chose Projects 4 Roofing to replace our conservatory roof. Our experience matched all the good reviews we had read before choosing [them].
They fitted the Guardian Warm Roof which is an older established design made of traditional materials and we are very pleased with it.
We are delighted with the finished product and would highly recommend Project 4 Roofing if you are looking for high quality, solid, experienced craftsmanship."
We couldn't have put it better ourselves! Thanks Susan – enjoy your new warm conservatory!
If you like the look of the work we completed on Susan's custom-shaped roof and are thinking of reinvigorating your conservatory living room or dining room, why not get in touch for a fixed price quote.